__________________________________________________________________
Il consumo d'un albero punta.    The tree waste bets .
Al muso d'un pennone.                 The muzzle of a flagpole .
Pesce – arbusto in cadenza al      Fish – shrub falling  to the
battito dell'arto corridore.            beat of the runner -limb
Sull'incudine pitagorica. Stop.    Pythagorean anvil . Stop .
---
Gli assi sono orologi fermi.                          The axes are stopped clocks.
Pulsano. Pulsa, il bianco della lanterna.   They pump. Beats the white lantern.
Lava l'abbrutimento sociale.                       Washing social degradation.
Statica frenesia d'assenza.                           Static frenzy absence .
---
Il nulla nel kaos ciarlante.                            Nothing in that chatter mess.
5 battuti e spalle alzate.                                 5 given and shoulders raised.
Al ribasso. Le chinate palpebre                   To the Downward. The bowed eyelids
mostrano il suolo.                                          show the ground .
Svaniscono. Al suolo.                                     Vanish. To the ground.
---
Pop – pop – pow- pillow pow .
---
Lo sguardo alla rete.                                                               The look to the drag.
Sono gradazioni di ombre                                                     Shadows' gradations are
a danzare valzer sul petto.                                                dancing waltz on the chest.
Arbusto artigliato. In grigio.                                                 Clawed shrub. In gray.
---
Gradazioni d'ombre chinano                                           Gradations of shadows bow
i cappelli. La dannazione del sempre                         hats. The Damnation of a always
esistente. Esistito.                                                           existing one. Existed.
Iniziato. Concluso.                                                           Born. Over.
---
Possedere la frescura alare,                                     Owning the cool wing,
il sentire sporco delle maree traverse.                  the dirty feel of reverse tides.
Il sentire sporco delle nebbie,                                 The dirty feel of mists,
racchiuse da funzionali quadri.                              enclosed by functional frameworks
---
"Raccomandiamo la paura dei saluti,                   "We recommend the greetings-fear,
al canto di sparute civette.                                        To the sing of haggard owls.
Raccomandiamo l'elettrico buio,                            We recommend the electric dark,
giglio, sbocciato dal cementificato soffitto".      lily, blossomed from cemented ceiling".
---
[Base collinare]                                                                  [Hillside plinth]
---
"L'urlo nervoso, convulso,                                           "The nervous scream, jerky,
raccomandiamo".                                                           we recommend".
---
Go to.
Go to.
---
The sun is a cloud.
A cloud strongly closed in town.
---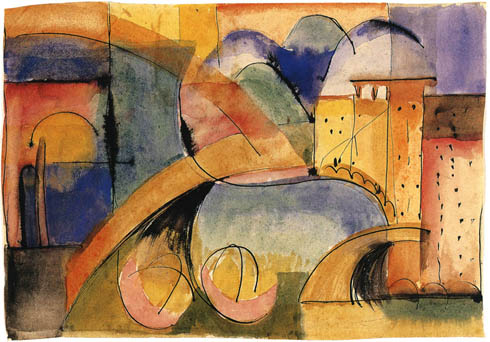 Goylì Goylà